Student Move-in & Testing Instructions
Posted: January 19, 2021
As you are busy enjoying the last days of the winter break and preparing for your return to campus, we would like to share the following instructions and reminders for those moving back into Gannon-owned properties.
Jan. 21-23 are the designated dates for residents of Gannon-owned properties to complete registration, testing and move-in, unless otherwise coordinated with Residence Life. If you develop symptoms prior to your scheduled check-in time, please report this via LiveSafe and we will work with you to make alternative arrangements.
Please watch the following video and review the instructions below outlined for those preparing to return on Jan. 21-23.
What to expect when you arrive
Please use this map and follow the necessary steps below for parking, registration, traffic flow from registration to the testing site and completing check-in.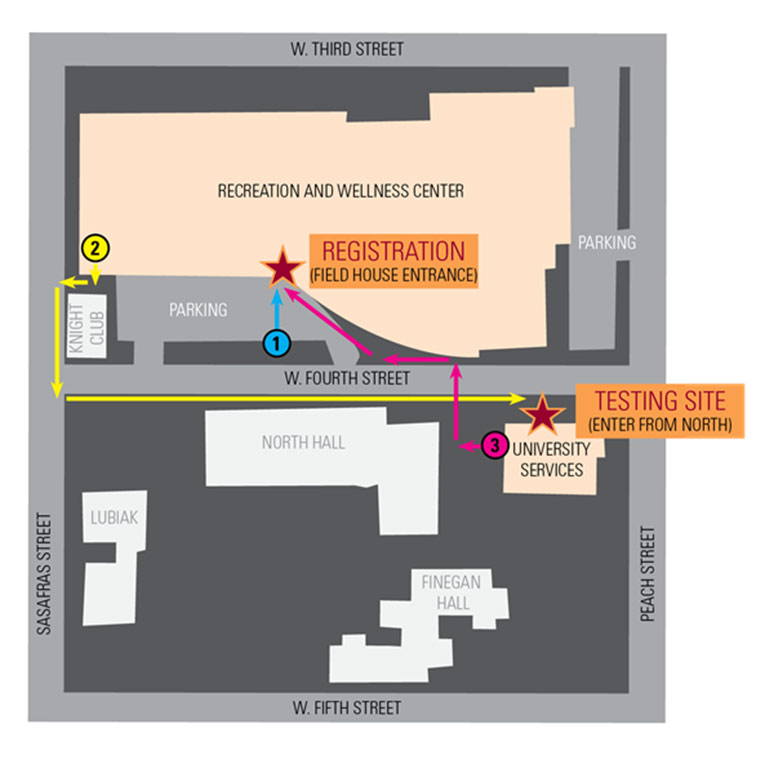 Please plan to arrive 15 minutes prior to your scheduled test time.
Parking will be available in the main lot at the Recreation and Wellness Center and in the corner lot on Fourth and Peach Streets.
Students should first report to the Fieldhouse at the RWC, using the secondary entrance near the Fieldhouse. Do not use the main entrance.
All guest and visitor policies will remain in effect; therefore, any guests should remain in the vehicle.
You will complete the following steps after you arrive: 
Wellness Check: Show your green checkmark on LiveSafe and get your temperature taken. 
Testing Consent Form: Sign our required waiver. Please review the waiver in advance. 
Schedule Day-5 Test: If you require a second test, you will schedule it here. Please be familiar with your class times and commitments to schedule your appointment on-site.
Registration: Confirm your name, date of birth and contact information. You will receive everything you need to proceed to the University Services building (testing site) for your test. 
Testing: The Health Center staff will explain the procedure and complete your test. You will proceed back to the Fieldhouse to complete check-in.
Housing ID Card Activation: This is your Residence Life check-in to restore your ID Card access in order to gain entry into your residence. 
Meal Pick-Up: To-go meal options will be available to provide residents with food while they quarantine and await test results.
After completing these steps, you will proceed to your residence.
We ask that guests either remain in the vehicle or outside to assist with unloading the vehicle. If you need assistance moving in outside the help of your roommates and those in your pod can provide, please email reslife@gannon.edu in advance of your move-in.
What to expect after check-in and testing
You should expect to quarantine immediately following your test until you receive results. Test results are typically provided within 24-hours and can be expected the day after completing your test.
Plan your groceries and other items you may need during that timeframe in advance of arriving to campus. Additional to-go meal options will be made available at check-in.
After testing, it will be vital to stick to your pod. Limit your interactions to the same small group to minimize potential of becoming a close contact and quarantine.
If you were required to schedule a second test (Day 5) at check-in, you will follow limited quarantine guidelines until receiving your second test results. This means you should not be interacting outside your limited pod, and with that, you should only be safely picking up to-go meals and attending educational or university requirements (class/lab, orientation, work study, etc. being sure to remain in small consistent pods in those environments) until you receive your second negative test result. Once you have confirmation of your second negative test result, you will be released to normal activity. 
The limited quarantine is necessary to assist in reducing exposure in the unfortunate case of a positive COVID test result and contact tracing is needed. The more we can limit possible exposure and close contacts, the better. We are extremely committed to assisting with the maintenance of your health and safety and thank you in advance for your follow-through and cooperation.
If you have a question or a comment, you can submit it at https://www.gannon.edu/Questions-or-Comments/.