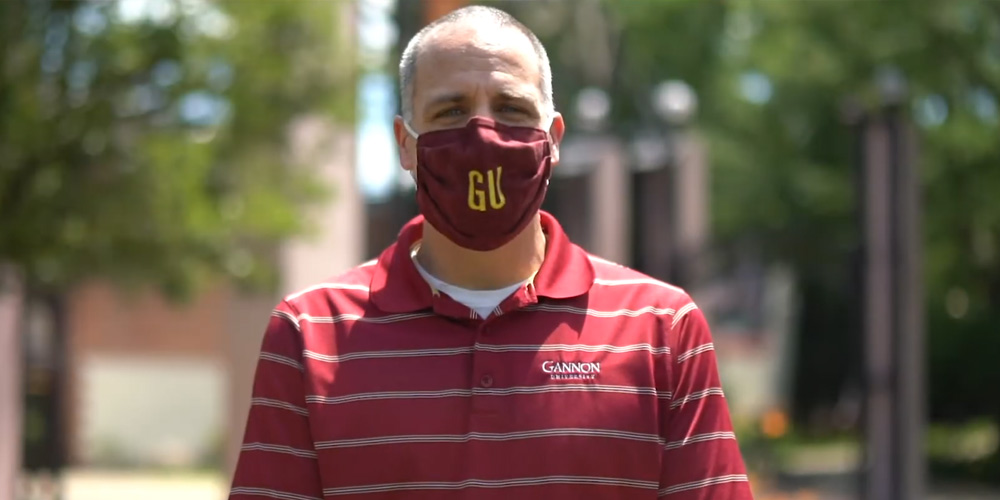 View a Video About Social Responsibility at Gannon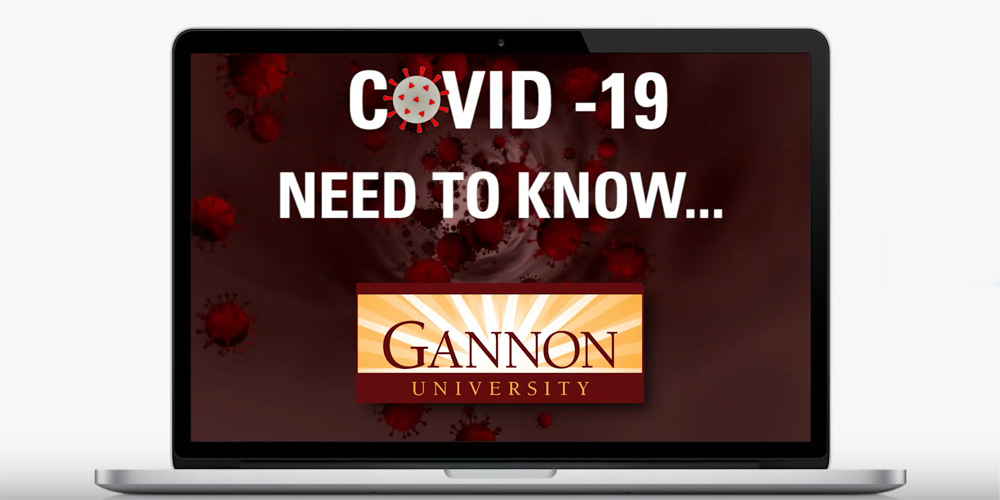 View a Video About COVID-19 Preventative Measures

Gannon University is resuming face-to-face instruction and operations this fall.
Reopening our university with consideration for the safety and well-being of our students, faculty and staff is our top priority. For this reason, we've created a three-phase reopening plan that complies with the decisions of federal, state and local authorities and public health officials and allows us to return to campus as carefully as we can.
Modifications around classroom learning, housing and dining, and social interactions will be in place among other changes. But we are confident this plan will provide our students the best possible environment and academic opportunities that we know will inspire an impactful Gannon experience.
Knights, we can't wait to see you.
Phase 3
Re-uKnighted
Begins August 1
Students return to in-person classes in Ruskin and Erie on Aug. 10. View the Ruskin, Florida Re-Entry Plan.
Students in our online programs will begin Aug. 17.
Visitors and guests will be limited on campus. Visitors to residence halls will be restricted, particularly for non-Gannon students. All visitors will be required to check-in upon arrival to allow contact tracing should that become necessary.
Gannon continues implementing safe-distancing guidelines and directives.
The University will provide face coverings to every student, faculty and staff member to use while in class, conducting business on campus, and in shared common spaces.
Those on campus continue to participate in daily wellness and temperature checks to ensure that no one with symptoms of COVID-19 is present.
Residence halls will be following best practices and social distancing guidelines, and a block of rooms has been set aside for students who would require isolation should they test positive for COVID-19.
The university will implement protocols as well as an on-campus team to handle contact tracing in concert with the health departments of Erie and Hillsborough counties.
Move-in for residential students will take place on Tuesday, Aug. 4 and Wednesday, Aug. 5.
Move-in for returning students will take place Aug. 6 through Aug. 9.
Move-in will be immediately followed by Gannon Welcome Week, which is required for all new students.
Major events and large gatherings will be altered and/or in-person participation restricted to ensure any and all gathering-size limitations are followed.
Gannon University's Timeline
Welcome Week: Begins Aug. 4.

First Day of Classes: The first day of classes for the Fall 2020 semester will be Aug. 10, 2020.

Fall Break: There will NOT be a fall break.

Last Day of Classes: The last day of classes will be Nov. 16, 2020.

Finals Week: Final exams will be administered across five days from Nov. 18 through Nov. 24, 2020 (there will not be testing on Saturday or Sunday).

Winter Commencement: Winter Commencement will be held in accordance with state requirements and federal guidelines on Nov. 21. Planning for Winter Commencement activities will occur over the coming months and may look different based on various requirements and guidelines from government and health officials.
State of Pennsylvania and Florida Phases
PA: Yellow | FL: Phase 1
In the yellow phase (in Pa.; Phase 1 in Fla.), mitigation efforts remain in place as more of the economy begins to reopen. Restrictions are adjusted as necessary based on public health indicators.
Events
Large gatherings of more than 25 people are prohibited.
Business
Businesses with in-person operations must follow safety orders, but working remotely must continue when feasible.
Personal care services, such as hair salons and barbershops, remain closed.
In-person retail allowed, but curbside and delivery service is preferable.
Dining and Recreation
Restaurants and bars remain limited to takeout and delivery only, but restaurants can open for outside dining.
Indoor recreation, gyms, spas and entertainment facilities (including casinos and theaters) remain closed.
Other facilities
Schools remain closed
Child care may open, complying with guidance.
Congregate care and prison restrictions remain in place
Once a county is in the yellow phase, it will closely be monitored for increased risk, such as significant outbreaks. If the risk remains low for 14 days, it will be cleared to move to the green phase.
PA: Green | FL: Phase 2
In the final phase of reopening, most remaining mitigation efforts are lifted. Businesses that remain closed in the yellow phase can reopen. However, some basic restrictions remain in place, such as limits on building capacity and large gatherings. This phase has been described as "the new normal."
Events
Gatherings of more than 250 people remain prohibited. This would include most festivals, conferences, sporting events or concerts.
Religious worship is exempt from restrictions, but social distancing and other mitigation methods are strongly encouraged.
Business
All businesses operating at 50% occupancy in yellow phase may increase to 75%, but working remotely is still strongly encouraged.
Businesses with in-person operations must follow updated safety requirements.
Personal care services, such as hair salons and barbershops, open at 50% occupancy and by appointment only
Dining and recreation
Restaurants and bars open for dine-in service, but with occupancy limits and other guidelines.
Indoor recreation, including gyms, spas and health and wellness facilities, open at 50% occupancy with appointments strongly encouraged
All entertainment, including casinos, theaters and shopping malls, open at 50% occupancy
Other facilities
Schools can reopen, subject to CDC and state guidance (though they will remain closed for the rest of the 2019-20 school year)
Child care may open, complying with guidance.