Gathering limit reminder, and guidance on 'pods'
Posted: February 5, 2021
Dear Students,
Week two of classes is in the books and we are off to a great start. By now, many of you are diving into your courses, and starting projects and group work. Our student-athletes are practicing and competing. We are all beginning to shift into high-gear to get after what we hope to accomplish this spring.
Together, we can make this yet another successful semester across our campuses – and we are looking to you to help make that possible.
What we are experiencing so far: Our number of new positive COVID-19 cases has remained consistent with just a few occurring each week. A couple of these cases, however, resulted in a large number of close contacts that quickly placed students into quarantine to start their semester.
What you can do to help: Please keep the following tips and reminders top-of-mind to best protect yourself and others from exposure and quarantine as you plan experiences with friends, roommates, classmates, team members and others.
STICK TO YOUR POD
Your pod should be a consistent group of about 4 to 6 roommates, family members, etc., with whom you regularly interact. Socializing outside your pod puts both you and them at risk of exposure.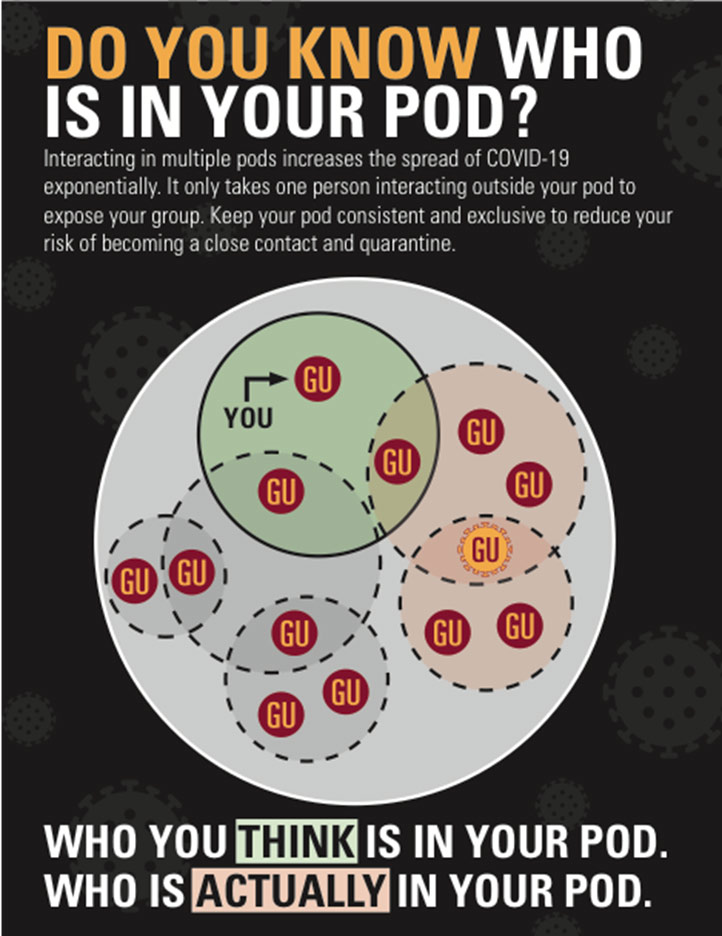 WATCH THE SUPER BOWL SAFELY
Enjoy a safe viewing experience of the big game this Sunday by following the tips and ideas offered by the CDC here. Remember, the plans you make for Super Bowl Sunday could alter your plans for the following two weeks due to quarantine.
The safest ways to view the game and limit your risk of exposure and quarantine are to:
watch the game with only the people you live with,
host a virtual watch party, or
attend Gannon's Super Bowl Viewing at the Recreation and Wellness Center Fieldhouse.
PRACTICE SAFE SOCIALIZING & LIMIT GATHERINGS
Gannon has several guidelines in place regarding gatherings that should be adhered to both on and off campus to keep our community as safe as possible. Failure to follow these guidelines could result in disciplinary actions or suspension. View the gathering guidelines that were communicated in the fall semester, and follow the tips below to practice safe social gatherings.
Who should be at a gathering? Your safest option is to only gather with the people you live with or those in your pod. Inviting others outside these bubbles into your safe space increases the risk of exposure and quarantine to all in attendance.
Ensure the space is socially distanced. There should be 6 feet between each person in all directions, meaning you should plan for 36 square feet per person. If the space does not provide this, restrict the number of guests to adhere to capacity guidelines.
Limit your guests at gatherings. Follow Gannon's guidelines to determine the number of guests permitted to a space. The number of guests should be determined by:
1) Each person has 36 square feet of space, and
2) Total attendance does not exceed 15 people, including the residents of the home, in off-campus residences.
Follow COVID safety measures. Avoid poorly ventilated indoor spaces. Ensure you can practice social distancing. Wear your mask at all times. Wash your hands and sanitize.
We are looking forward to another successful semester, and are grateful to be experiencing it in person. Let's start the spring off right and take these necessary steps to keep us together on campus through May.
Thank you for your active role in making our Gannon community a safe and healthy environment to learn, work and live.
If you have a question or a comment, you can submit it at https://www.gannon.edu/Questions-or-Comments/.